Im 3rd in 1st division for the moment on 1230 drivers

...lets try to continue
Im trying some skip races too.
Last edited by Lake on Sat Jan 29, 2011 9:40 am; edited 2 times in total
After disconnection on Skip, internal error from Iracing servers...bad night

First for the moment in that serie in Division 1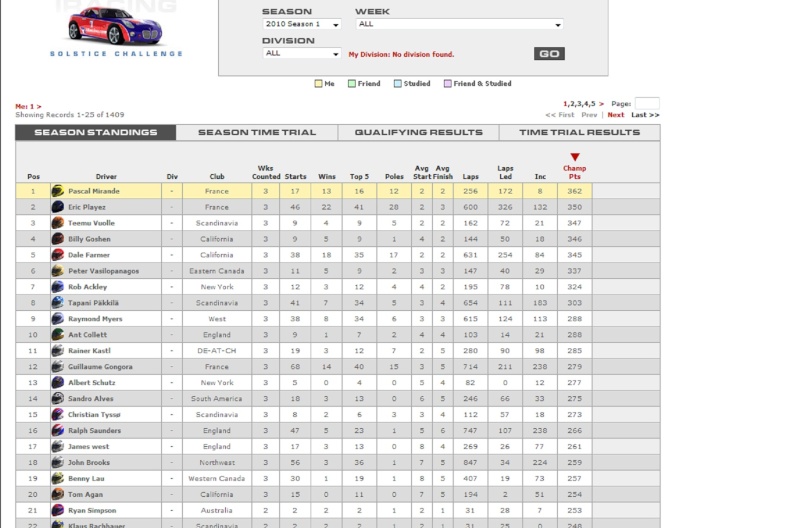 Dont hav a lot of time to drive but im 1st at the moment and the Solstice Season.
One week left...who knows

Last edited by Lake on Sun Jun 20, 2010 12:21 am; edited 1 time in total
Your Lakey is on the top at the moment on Solstice championship (2129 drivers).
428 points.
Next week will be decisive to win the championship...
Lets pray

Good job man.Looks like you re addicted to the solstice but wouldnt you prefer more powerful cars?

Colt

SCCC Member





Posts

: 380


Join date

: 2009-01-19



I practice Dallara on training sessions (can see in my results stats) but that car need a lot of practising before doing races, season, etc...

Maybe this will take 6 months or more, to feel confident with tracks etc...

And it take lot of time to learn and be competitive with it.

Not impossible but finding time..

And there is not lot of races too.

The advantage of Solstice is that you have races every hours.

I started to drive the Spec Fors who is fun but again , races are only every 2 hours.

I tried also Mazda who is good and DP Riley.

But all of those cars need involving and its impossible to do all series.

I think maximum 2 series at the same time.

But the Dallara is one of the car i really like.

---
Permissions in this forum:
You
cannot
reply to topics in this forum